When you think of Home Depot, what comes to mind? Maybe it's the scent of plywood, the immaculate model restrooms, or the welcoming staff wearing orange aprons. Marketers may be inspired by Home Depot to consider a seamless mobile to the in-store experience. Home Depot, a pioneering store, uses a top-notch app to provide excellent customer support right to mobile users. Other retailers can imitate it since it sets the bar high.
Pay Attention to The Client Experience
How frequently does a mobile app truly feel like it was created for customers, despite how frequently brands talk about putting the client first? Pushing promotions after promotions through an app can only lead to uninstalls from consumers. Mobile apps ought to be simple to use, provide alluring advertising, and provide pertinent material.
With a mobile application that combines practical tools with cutting-edge technology, Home Depot fulfills all of these promises. Users may browse through products on the app or, if they're in-store, scan the product barcode to learn more about it. A toolbox with a unit measurement converter and even a DIY measuring trick depending on the user's shoe size is also included in the program.
Read More: Dollar Tree Hacks: Organizational Tips from Dollar Tree that Just Make Sense
Before making a purchase, customers can utilize the augmented reality feature to get a sense of how new faucets would appear on their sink. When a user is ready to buy, they have the option of having the item transported to their house or picking it up in person.
Customers can initiate a conversation with a customer service representative using the app's chat feature. Within the app, users can ask general or product-specific inquiries.
Geo-Location Is Essential for Smooth Omni-Channel Marketing.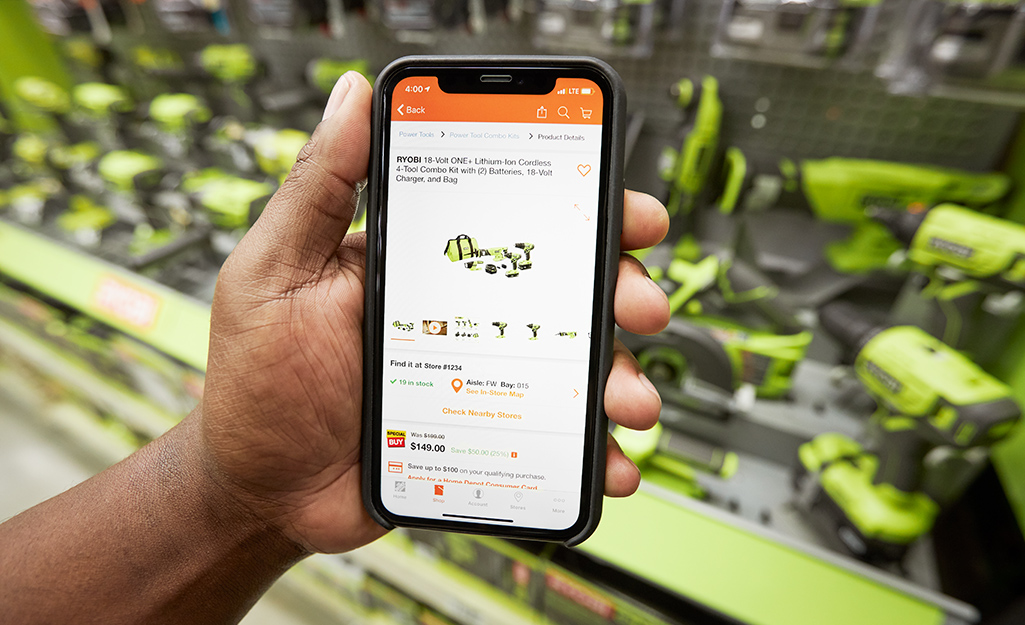 Home Depot is aware of how to utilize geo-location in a way that meets the needs of customers. Although helpful staff members are available to assist with product selection and provide information, the best consumers will typically have done their homework in advance. This is the point in the program that geo-location becomes powerful.
The "in-store" feature of the Home Depot app is one of its most beneficial features. Knowing precisely if items are in stock and where they are displayed in aisles makes the shopping experience as smooth as possible for people who need to enter and exit the store fast. For business people, geo-location makes it possible to check ahead of time whether things are in stock at the nearby store and removes the need to wait for store staff.
Read More: Pop-up Camper Hacks: Amazing Pop-up Camper Modifications, Upgrades, and Hacks
Utilize Mobile to Interact with Current Consumers
The best customers are frequently those that use mobile apps. In reality, the mobile app is a loyalty program in and of itself and should be considered a tool to engage and keep existing customers, as Greg Bettinelli, former CMO of Hautelook, stated in our webinar.
Remember what you've learned about client personas and segmentation since it still holds true for mobile. Make sure the app is genuinely beneficial by creating a customer profile of the typical power user if you want to utilize it to engage your existing clients.
Read More: Fm Whatsapp Apk Download: Fm Whats App Apk Download (official) Latest Version August 2022 | Anti-Ban
The app experience at Home Depot reflects how well they understand their key users. The app provides augmented reality features, measurement tools, customer chat, local coupons, and workshop schedules for do-it-yourselfers. Downloading the app is crucial for time savings for the professional because it provides real-time information about the stock that is now available and in-store pickup.
Marketers who want to improve their mobile services can examine Home Depot's performance more closely. After all, according to Paypal, traditional eCommerce will be surpassed by mobile spending as we soon enter a mobile-first era. Retention Science has been stating that 2014 would be the year of mobile, so marketers had better be ready.